Song of the day:
The Streets "Dry Your Eyes"
I am so so tired this morning its unbelievable that I can even type properly. Thank goodness its the last day of the convention. I wish to see less cops with guns everywhere.
I had better get a nap sometime today before I drive down the shore. I am meeting my friend down there and my only company will be the Garden State Soundtrack that I bought.
Last night was pretty nuts cause I think my entire law school was at the bar I was at. I went there cause a friend of mine said he was going there, and didn't mention that it was some kind of school event. But it was kind of fun. It's much more entertaining to see these people when I don't have to see them everyday. And there were some first years there and its just so sad to see them because they have no clue how much their life is about to suck. It's quite funny how many people were telling me how lucky I was to be out of the school. I am starting to think that Seton Hall Law school in particular sucks more than other law schools.
Anywhoo, weird stuff's been happening lately and it's not the kind of stuff I can even post here.
But I will say that I have had a few encounters that remind me of this scene in Can't Hardly Wait when Jennifer Love Hewitt just broke up with her boyfriend and was talking to her cousin about it and then he tried hitting on her. It's really unbelievable how few people know what's inappropriate.
Oh well, it's good to be going to the beach. There's something indescribeably wonderful about looking at bodies of water.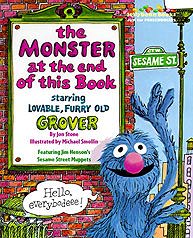 This real page turner is Book Number 1 in Heather's book club. I don't mean to ruin it, but on page one Grover opens with a shocker "There is a monter at the end of this book" that leaves you at the edge of your seat and keeps you guessing to the very end.