The leftovers after a filling dinner of all the fish in the sea.
I found out yesterday that Brian's stupid fetus girlfriend visited here a few weeks ago, and he fucking took her to school with him. In the law school library. The library where I blew him. The library where we spent hours together. It's like our own special restaurant. That was our place where I think we spent most of our time together, besides my room. I feel like he took her to our place. And I feel embarrassed. That was my fucking old school. And it's so small. And they all know about me and Brian. And he brings this fucking girl, so they can all see and judge and see how I was replaced by some perky little teenager, and they can parade around together and there's nothing I can do about it. But I did hear she was short and plain looking.
It embarrasses me. Because I was so head over heels. Because I was stupid enough to think that we were so perfect and moving in together was a good idea. Because I thought our relationship was strong enough to last a summer apart. Because I believed all of his lies. Because I believed that I was a good enough person to not be cheated on. Because I believed that he was more of a man than he is. And him walking around with her in front of people I know is like physical evidence that I am the fucking fool. I was totally fooled. And I swear to god if I can't have a man who won't cheat and lie, then I don't want a fucking man at all. I'd rather fuck chia pets in their grating little chia holes.
I was really upset about this news yesterday. Then I spoke on the phone with an old friend who is the funniest person I have ever known and he cheered me right up. I couldn't believe it either, I haven't talked to him in years and he was the absolute perfect person to call. I think I laughed the entire time. Thank you sir. Oh yeah and before I talked to him I had a long ass convo with another old friend who I fell out of touch with. There was a bit of drama with us, but I had realized enough time and circumstances had passed that it's cool now. And . . . biggest best news of yesterday- I'm going to Japan! He lives there and is leaving in April and it occurred to me that it would be totally cool to visit there cause I never had a friend in Japan before. He said that would be totally cool and that I could come. I am going in March. I almost bought the tix yesterday- I found some for 700 with tax and everything. But I am gonna make sure I work it out with my bosses first. I'm so psyched- Japan!!! I figure if I don't go now I never will. Oh yeah and some friends will have a place in Warsaw and Krackow in Poland I could stay in April. If I can do both I would be the happiest little cracker this side of the Mississippi. Oh yeah and I have a friend moving to Puerto Rico now too. Hmmmm.
My brain hurts me. I drank way too much, but had lots of fun. Went to
Sushi Samba
and spent too much on fashionable sushi and drinks- which weren't enough so we went for pizza and a cheap bottle of wine right after. Sushi Samba is really cute and there's fun people, but for that price I've had much better sushi (Blue Ribbon on Sullivan!). But I did order one
Kumamoto Oyster
(Kumamotos and Blue Points are my favorite) and it was by far the most amazing one I have ever had. And then after the cocktails, bottle of wine, complimentary glass of wine from the Italian dudes who own the pizza place, we went onward for 2 for one drinks at some Wine bar, and ended up at Asylum. So yeah- I drank a lot. We all drank a lot. I have head hurt.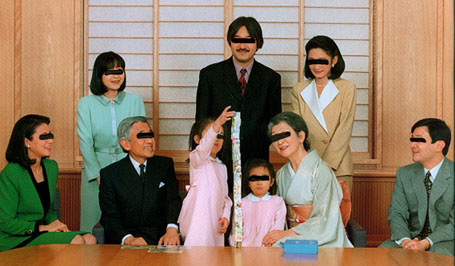 Remember how I confided in you all about my stolen family? Well I found out about this one in Japan who appear to have charmingly large eyebrows, and I found their addresses and likes and dislikes. Little Jen likes to collect funny shaped hats. It's only fair for me to steal my own. Quid pro quo baby. Quid quo pro.