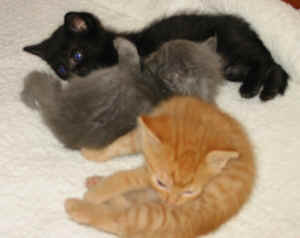 Snuggling
is sooo great.
I am such a happy lady this morning. On the way to work the sweetest little kitty was in front of this deli and he let me pet his cute little kitty cat head.
Last night's reality tv thingy was a lot more fun than I expected.
Cause the deal was that my friend threw her husband a surprise birthday party with a Canadian theme, and the show was about her planning the party with the help of the party planner. And it was really cool. They decorated it to look like Canada cause they are Canadians, and they had really good snacks and free drinks. I drank a whole lot of Caesars- which are some kind of Canadian bloody mary, and so I got drunk. I unfortunately didn't flash everyone and start screaming as hoped for, but I think I said some stupid crap on camera. So hopefully this will make for funny happy tv moments as opposed to my elimidate shame or that time that Paul Begala called me prude on Crossfire. Anyhow I didn't sleep much last night so my plans for tonight are being cancelled- you like that? Friends of mine who I may forget (purposely cause I am a real jerk) to call about tonight- good thing you're reading the blog today so you know I'm ditching. Sound good? How do you like that jerk love- eh?

I am so excited I found a friend to go see Debussy's Opera (only 4 performances!) at the Met. I don't care that we are sitting in nosebleed seats neither. I got my grandma's pink mother of pearl opera binoculars so I am gonna pimp it hardcore.

Also, I am kind of sad cause my bosses keep giving me work to do, but I much prefer to sit here and type away to create these blog entries. I think that my real job takes away from the quality of the blogging. Sorry.

Ted Turner is cool.

Back to being happy and sharing with you my innermost thoughts. I like wearing my snowboots a lot. They make me happy when I wear them even though they aren't that cute looking and are just rather practical. It's the whole yucky outside, cosy inside combo that makes me love wearing them. Kinda like how it's very nice to be warm inside when it's icky raining outside (you homeless sure are missing out). I prefer to step and squish in mushy dirty snow slush just cause I know it can't penetrate the snuggle fortress that is my snowboot. Ahh. Niceness.