still my fave . . .
I love guns. I love in movies when a character gets ready to be some kind of vigilante and they go to some place and stock up on all kinds of cool guns. I think I'd feel sexiest dressed up like Linda Hamilton in Terminator 2, after visiting that place in the desert with lots of weapons. I admire the gun fights in Robert Rodriguez movies like Dusk Till Dawn, Desperado and Once Upon a Time in Mexico (some of the most beautiful gun scenes ever). As a young girl I remember that weird gun Arnold has in Commando with the 4 big holes in it was so amazing, seeing it today fills me with childlike wonder.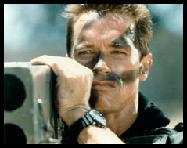 I envied Jennifer Lopez in Out of Sight when she was given the gift of this beautiful silver looking thing. I don't know what all the guns are called like all the boys who like to play that 007 James Bond video game. But that doesn't mean I like them any less.
Once Upon A Time When J Lo was Cool . . .
Guns are perhaps the finest mechanical creation of man. Art aside, the fact that we have created these devices, of varying shapes and form, that are capable of removing life from things in one second's time, wins my fascination. It's always amazing when humans find their own way of doing "god's" or nature's work. It's raw human power and achievment. It's sexy, strong, and satisfying. And that you can have that kind of power in your hand, it's hot.
But I am big into gun control. It should be really hard to get a gun, and I want anyone who wants to get a gun to have to go through an extensive screening process, and for the dealer to be able to collect detailed information from the buyer, simply because gun violence in the real world is fucking horrible. I don't believe in taking lives and I don't think purposeful violence is cool. But the world turns as it may, and violence and blood are beautiful things. Beautiful in that they are humbling and complex, not that I embrace or enjoy pain in others. Anyhow, I heard there was a shooting range in Hoboken but I think it's closed down now. I would really like to seriously get into shooting as a hobby. I had once thought that simply bringing a gun into the world was bad because someone could accidentally get their hands on it. But I suppose if a person is careful, I dunno. Maybe I'm being selfish. I just want some cold hard steel.
__________________________
As I was reading
this article
about Steve Carell's new movie, The 40 Year Old Virgin, guest starring darling little hotty pants Paul Rudd, I realized that just thinking about his performance as Brick in Anchorman makes me smile. He's damned damn lovable. He's funny in other things he does, though the American Office makes me wince (wow that's the first time I've ever used that word), he does his best considering he has the stupid task of redoing a perfectly well done and perfectly currently relevant to American culture role- my overly worded obvious point is that the Americans who would embrace The Office are happy enough with Ricky Gervais. Anyhow, Carell makes us realize that deep inside, we all truly love lamp.
I think I forgot to review the movie
Tigerland
weeks ago when I saw it. Perfect movie. Compelling story, well cast, well acted, well told, beautifully shot, original concept. See it. I loved it. It just happens to have sexy dudes in it too.
Finally, in spite of the fact that I have a blog that talks about me and my world, I have to say, I have no sympathy towards bad websites, blogs, or myspace/friendster pages. Oftentimes there is nothing worse in the world than a cheesy cutsie personal webpage. Forget it, there is nothing more disgusting to me than coming across some webtrash littered with loud colors, a wav file playing in the background, some butterflies, and unneccessary abbreviations and exclaimation points, and quotes like "I am a caring and sensitive girl!!! OMG!". It is nausiating enough living in a world where girls pretend to be cuter and more coi than they truly are because they think boys will like that- must it be translated into html ready form? If I can smell desperation from a webpage, it's freakin sad, but moreso, it's irritating. Nothing makes me want to slap stuff, aside from Peter Krause's fine ass (come on you knew I had to go for that one), like a girl when she's puttin on the cute. Take that same girl and get her in a room with no boys around and you can damn guarantee that bitch will start nagging and whimpering and smearing her damn pms around like those dorks in yogurt commercials. I love other women. I love a lot of other women's webpages. But the kind that I am speaking of, well they should make me a sweater or some cupcakes and shut their darn word holes.
(I almost forgot to mention that I hate when people cut and paste the results of internet quizzes, like . . . - what kind of asshole are you? 69% big asshole . . . you are a freakin douchebag, unlike moderate asshole, who is an asshole with a twist of compassion . . .)