Nigger is a horribly offensive word. All I know is that movies showed me a black person was treated really badly and made to feel really sad and terrible when someone used the word nigger in a mean way. And I read some books like Harriet Tubman's Underground Railroad, and I learned about all kinds of really horrible and sad things. These sad things were taught to me, and are successful at making me feel sympathy and sensitivity towards black people and their difficulties in the world. But I am not a black person and nobody has ever called me a nigger. So I can't discuss this topic from a truly informed standpoint. But.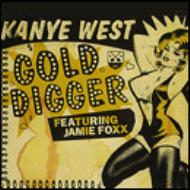 It strikes me that when I listen to Kanye's "Gold Digger" on TV or radio, the lyrics are changed from "I ain't sayin shes a gold digga, but she ain't messing with no broke niggaz" to "she ain't messin with no broke, broke." Broke doesn't rhyme with digga. Nigga rhymes with Digga. Kanye makes that sound good. And his song, among others, have the word nigga edited out for radioplay. And I wonder what that's all about. Is this to have a public sensitivity towards the word? Is this to ensure that children don't just drop N bombs carelessly? It strikes me that there's a reason to edit it out. Nigger is a word used to mean black person. But it's bad because when it was used in the past, it was used to hurt the feelings of a black person, or to degrade them. Actually, screw the past, I am sure people still use it if they are racist and want to let a black person know that they hate black people. But it's also been reclaimed as a word that black people use amongst each other in friendship. And it's kind of cool because white people really can't use it. So it's theirs and we really can't have fun with it.
Now in writing this it's kind of annoying that I am talking about black people like "others" or like a thing to be studied. I don't think that way, but I know that I am not a black person, so I can't say "us" or something like that. That said, I'm gonna continue,
The word Nigger in itself is from the word Nigeria, I guess. I really don't know. It doesn't mean anything other than black person and it's only bad if the person using it is using it in a meanspirited way. So if a person is using it without any mean intentions, why should it be so bad? So a person is a nigger. So what? There's nothing wrong with being a black person. Why should it be edited? So lets say I am black. Someone refers to me as a nigger, and not in a mean way. Like "Sup my nigga". Ok. I am a black person. That's nothing to be mad about. Like when someone says someone runs like a girl. So what. Girls are great. To be like a girl isn't a bad thing. So you call me a nigger. So what. Black people are great. I am a black person. You get what I mean?
I think the reason we edit that word is because our scared American culture can't begin to truly embrace its own history of slavery and racism. We are the birthplace of political correctness. Now that's kind of sweet because it means we are a polite and considerate people- attempting to be sensitive to the many flavors in our idyllic "melting pot" culture. But maybe we are just trying too damned hard. I still think we are a little tight lipped about the whole white/black thing. Hundreds of racist themed movies have been out there, all seemingly saying the same thing in a cheesy consensus one after another. True statements that affect people regarding race issues in America are few and far between. I thought that Bamboozled actually said something. But I am not sure if I can think of much else that said something new and different.
It's like a big horrible breakup. And white Americans and black Americans walk down the street every day pretending like the feelings are all cool and pretend to be happy in public, wounds healed, life going by as usual- but it doesn't take much for a wound to open. There's a lot of suppressed anger and a lack of understanding of cultures on both sides. Anyhow that's just interesting that they edit out the word "nigger" like it was "shit". It's not shit to be a black person. Or maybe it is. What does my cracker ass know anyways?