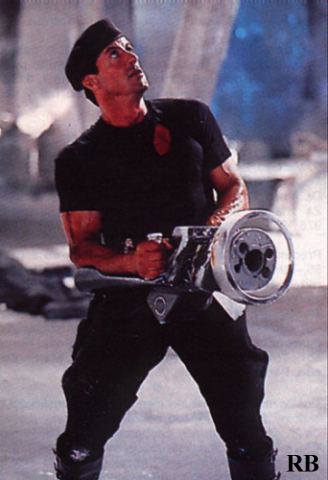 I don't know if you know, but I learned something. I have to tell you all about a great man,
Mister Sylvester Stallone.
There was this one time he hit Wesley Snipes really hard (in his face) in the future. Now anyone who knows me well, knows how much I LOVE the future. Sylvester also put on this hat with Sandy B that was supposed to be like sex, but in hats! Supposedly it was virtual. MURDER DEATH KILL. Man that was good. Surprisingly enough, Stallone has done other movies besides 1993's Demolition Man.
In spite of all of his great accomplishments previously mentioned, as he reaches the September of his years, he manages to
Shock and Awe
much like that HILARIOUS war campaign in the Middle East where all these people died, some bleeding to death.
I had mentioned it before, but I still feel his great recent accomplishment has been overlooked. This man has designed his own energy pudding. That's right.
Have YOU ever designed your own energy pudding, for sale nonetheless?! No, because Sylvester Stallone did it and not you. Unfortunately lemon cream flavor is out of stock.
See for yourself here.
This is surely the best 50 bucks you'll ever spend, I know that in my heart of hearts.
Pudding Pioneer Stallone has far more up his musclebound sleeves, where does he find the time?! He's writing and directing a new movie
"Poe"
about Edgar, starring that nice man who likes drugs almost as much as your mom (ha, I done told yo mama!). And it has been in the news that there will be another Rocky. But Rocky I care not- RAMBO! He's doing
Rambo IV
. Oh my god I almost forgot to mention that he is writing, starring in and directing a new movie all about Biggie and Tupac called
Notorious
, well I guess we could have seen that one coming. I mean sheesh what 64 year old man hasn't done that? Either way, his list of accomplishments builds like an eager slave laborer.
What a Man Indeed!
I just blasted "Everytime" by Britney Spears in the office. We all feel closer now. It's so sensitive.
Also-
click here
to watch Robbie Williams shake about his floppy bunny. So yes, there is nudity in this link.