Crap- it's a musical.
Every morning I see a commercial for the broadway musical "In My Life" and this critic says it has jaw-dropping moments of whimsy run amok. That doesn't sound like the kind of moments I'd be fuckin comfortable with. I looked up this movie, and here's what other reviewers had to say:
"Boy meets girl; boy gets brain tumor; boy's dead sister intervenes with God, while angels roam around a big room filled with silver filing cabinets (that's heaven) and occasionally put on lavish period costumes to perform mock operas."- Ben Brantley of The New York Times
"In My Life is awful, but as disasters go, it's minor league"- Howard Kissel of The New York Daily News
"Long before a giant lemon (not kidding!) descends to dominate the stage in the final song, the suspicion arises that this might be an elaborate joke… But no such trickery seems intended…" -David Rooney of Variety
"It's more fun to talk about In My Life, the bizarre new musical at Broadway's Music Box Theatre, than actually sit through it."- Michael Kuchwara of The Associated Press
I agree with Mr Kuchwara, it is fun to talk about this musical. But being how I don't like musicals much as it is, (Les Mis for example, has many guns, little shooting, too much crying) I will not be seeing "In My Life".
Click here
to read more hilarious reviews.
---------
The frumious Bandersnatch!
I am often emailing myself from my home email to my work email. Today I sent myself this link:
Jabberwocky
Last night I was sitting in bed and the phrase "Twas brillig, and the slithy toves" popped into my head. I was trying to remember where that was from. Then I thought about the movie
Alice and the Looking Glass
. Man that was great. Alice in Wonderland is my favorite Disney movie. Really crazy stuff in that one. And the dancing oysters always make me hungry. Anyhow I am pretty sure I memorized that poem as a child in school. What a great one, with such words as "vorpal sword" and "manxome foe". Another awesome poem I memorized in high school, also read by Mr. Bean in 4 Weddings and a Funeral:
Stop all the clocks, cut off the telephone
It's a nice poem when you'd like to feel tragic or pout.
-------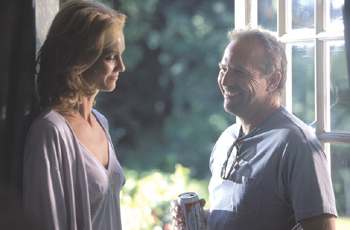 I saw the movie
The Upside of Anger
this weekend. First thing to say about this movie- Excellent rental choice. Good for all ages, varied tastes. I could imagine watching it with any mix of friends and family, which I can rarely say. It's a great movie. Great mix of drama and comedy. Artfully acted by a great ensemble cast, and it's even got a twist. Joan Allen and Kevin Costner are so outstanding- I see both performances as one of those obscure possibilities for some kind of nomination. Very well written and well directed. I really liked the lighting too. They used a lot of sun. Man oh man that Joan Allen- have you seen The Contender? You really should.
-----
Bodies, The Exhibition.
Looks cool.
Ex Machina
movie gets an imdb page, legitimacy- yes! Which reminds me that Aeon Flux is coming out this weekend. They better not ruin that for me. Damned hollywood. It looks cool in commercials but it lacks the erotic, sharp style of the animated Aeon. Trevor too- doesn't look anything like the character.