Bobby Brown.
My cool "dear in headlights" or "crazed lunatic" pose.
Work is mad busy so I am going to sum up last night's show as quickly as possible:
the show was so super fun last night ... biggest crowd I've ever performed standup for ... and it was a packed room ... and Standup NY is like a real legit place that people go for standup so it felt all official or something ... and then all the comics were pros and they were all really great and it was super cool to be among them ... and the headliner, Donnell, from the Chappelle show, was like so super good ... and then Bobby Brown was there and he was super nice and we reminiced about living in the same part of Jersey (he currently lives where I grew up) and then he stopped and took a pic with me and was really patient even though my camera was being weird- unlike Heather Graham who was like super bitchy to me when she posed for a picture with me a few months ago and when the person taking the pic didn't press the button right she was all like "whatever I'm out of here" and rude and looked stupid in a super ugly orange dress and anorexic bone shoulders ... and then my set went well even though I did mostly new jokes ... and then and then and then um ... then people invited me to do their shows ... and I was so nervous but tried not to let it show on stage and I think I was successful in that ... so then I knocked back a ton of drinks after I performed cause I didn't want to drink before I went on so I needed to shake those nerves ... and then these producer types and people experienced in the biz paid attention to my set and gave me all this feedback ... and then I rode the PATH home really drunk and read my comic book but really slowly cause I wasn't doing too well with my reading comprehension ... and then I ate Dunkin Donuts and then I went to sleep and now my head hurts me.
THE END.
And about 20 people RSVP'd and 7 of those 20 showed up. I much appreciate those who come to my anything and am very greatful for that support, but please don't get my hopes up- liars!!! I like people. I like when a person tells me I am gonna see them. And then when they don't show, I look down at the ground a little and get a little sad and then I put on some lip gloss and tell myself it's gonna be ok. Please let me know ahead of time if you can't make something that you RSVP'd for. Thank you. But you can make up for it:
See my long, full, luscious FREE set at
Variety Underground
Next Thurs, Jan 19 7-9 pm 317 E Houston St. I have all new jokes for 2006, so come see the new and improved show.
And thanks so much Jodi, Shane, Jen, Shayna, Niv, Dayci and her friend for coming!
-----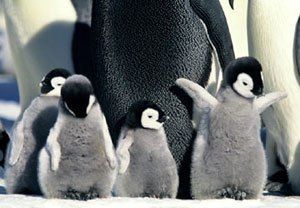 Also, if you go to IMDB's message boards for the March of the Penguins, you can
catch this hilarious conversation
, which includes such highlights as:
"I am wondering if there is any penguin nudity? >>
There is. The whole of Antarctica is like a nudist camp for penguins
Anything goes out there"