like old school blogger blog style circa 2004 - I aint talkin no tumblrtwitted game dog.
So much has happened in the past couple of days and I haven't properly absorbed it all. Got very big news about my life on Thursday. Not announcing it here though. Not yet.
But here's a fact: I have to move out of my apartment - not out of New York, but I just must find a cheaper place. Moving is a big deal. Been hectic and busy with thought of trying to both sublet my place and find a new one.
My friend got roofied on Thursday night. That was a doozy. We went to an event with free drinks around 9:30. We both arrived sober. By the time she had her 3rd drink she was strangely super drunk very quickly. At first I thought it was funny yet bizzare. I saw her talking to a weird man at the bar who was very touchy feely and I think it was him. I was with another male friend at the time. We left this bar around 11 to walk across town and head to Williamsburg for a party. My female friend kept getting louder and drunker, yelling at people, walking sloppy. We thought - woah weird! And decided to get her some pizza and water. While at the pizza place she puked a couple of times and had a very hard time walking. We thought we would get her a cab. Once we put her into the cab, she could no longer move or feel her legs. (the next day she said she blacked out while in the cab) We carried her up into her apartment and put her in bed. She could not walk or move much and puked more when we got there. Crazy crazyness. This happened to another friend of mine in January. Pretty upsetting stuff - but I am happy both friends ended up safe with friends and brought home.
The highlight of my weekend had to be the spontaneous music video shot between Adam, Annemarie and I on Saturday afternoon on my roof. More images and video to come!
Stuff I liked recently:
-
"I've Loved You So Long"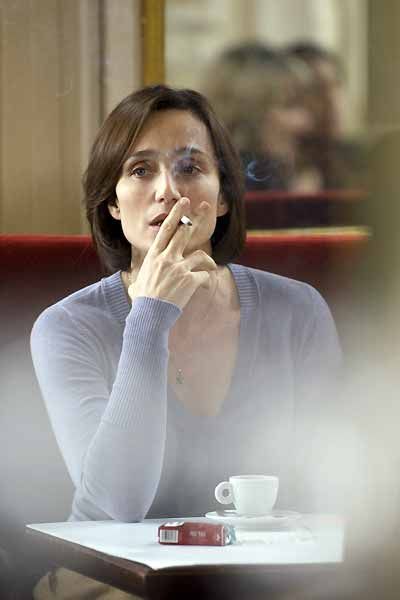 - excellent well made movie, uniquely emotionally real. About a sad subject, but it's not sad - it's more life affirming and about the complexities of humanity.
- Love both Boy By Band of Outsiders clothing - and I love Sarah Silverman - AND they've been
combined!

- NEW
Tori Amos
- And I adore Terry Richardson's ability to show what Blair would look like while S'ing major D.